Environmental & Energy Services
ORIX's environmental guidelines: ORIX accurately seizes on the demands of customers and society, and makes contributions to solving environmental and energy problems in a commercial way. Furthermore, the corporation takes appropriate measures to conform to the situation in view of a continuous extension into the business field and changes brought about from development.
Starting with its leasing business, ORIX has further expanded related businesses and derived businesses. Particularly in the fields of energy and the environment, it began by investing in the wind power generation business in 1995, extensively stepping into waste disposal, energy-saving services, electrical power supply, renewable energy generation and metal resources and more.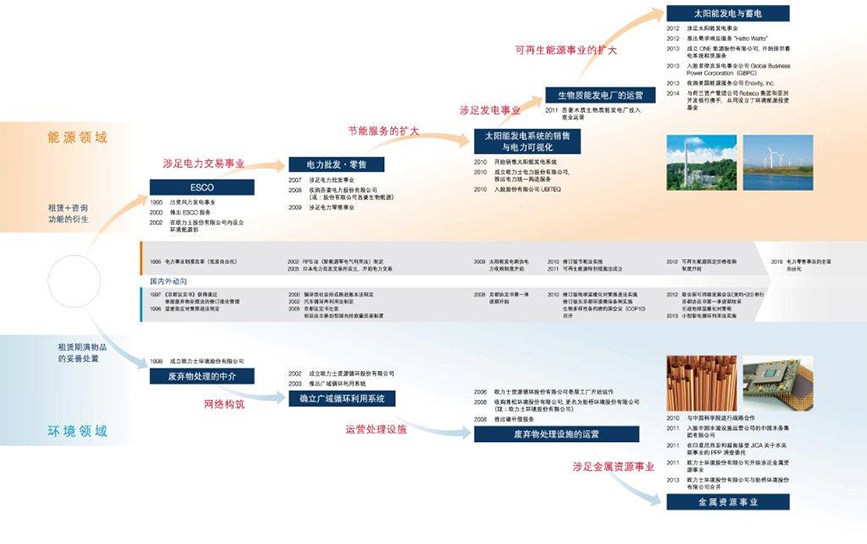 ORIX and Its Energy Business Development
ORIX provides all kinds of services that meet customers' demands in five fields including renewable energy generation, low-price electrical power supply, energy-saving services and other kinds of energy services from upstream to downstream.
Power Generation (Renewable Energy)
ORIX makes contributions to popularizing solar energy, biomass energy, geothermal heat, wind power and other renewable sources of energy.
Megawatt Solar Power Generation



ORIX makes full use of vacant lots of enterprises and local governments to conduct large-scale solar power generation.

ORIX rents vacant lots from enterprises enterprises and local governments on a national scale to promote the construction of large-scale solar power stations (Megawatt Solar Energy) with a maximum power output over 1,000 KW (1MW).

Megawatt Solar Power Station in Deer Lake Country Club



Rooftop Solar Power Generation
The corporation rents the rooftops of factories, warehouses and other main facilities from customers and installs solar power generation systems to promote the development of solar energy generation. It realizes more efficient electricity generation not just via vacant lots, but also by flexibly using customer's facilities to the furthest extent. At the same time, for its customers this means that they can not only effectively make flexible use of assets, but also take advantage of the thermal barrier effect created by solar energy panels to improve efficiency in air conditioning and control aging and the deterioration of rooftops. In addition, ORIX also makes use of its own rooftops at commercial facilities to develop this kind of business.

Onokazu Incorporated Company
Solar Energy System Sales
The power generation business of overall support users gives full play to the generated economies of scale by directly purchasing machines from manufacturers and the cooperation network among engineering units in the nation, to support customers in introducing the system at a relatively low price. ORIX can provide type selection of machinery from many manufacturers, lease, hire purchase, make advances, rent and other financing methods for customers' practical situations. The corporation also provides services of equipment identification as regular price takeover system and a one-stop service from installation to maintenance after introduction, providing support for customers to smoothly introduce the system.



Watsuma Woodiness Biomass Power Station




The biomass power generation using wood chip resources operates the wood chip electrical generator the "Watsuma Woodiness Biomass Power Station" in Gunma-ken. The principle of wood chip electricity generation is to burn wood chip fuel in boilers and then to conduct electricity generation via the rotation of generated steam drive turbines. As an alternative to fossil fuels, biomass energy wood chip fuel can not only reduce CO2 emissions, but also sufficiently apply heat recovery ※1 technology to realize a more environmental power generation business. The maximum power output is 13,600kW (13.6MW), and the annual power transmission quantity is 88,000,000 kWh ※2, which amounts to the annual electrical power consumption of about 24,400 households ※3.

1. Can not only conduct incineration disposal for waste, but also recycle generated energy during incineration at the same time.
2. Actual annual power transmission quantity in 2013.
3. Calculate 3,600 kWh per year for each household. Source: Power-related Information from the Electric Power Union
Geothermal Power Generation
| | |
| --- | --- |
| | "The Suginoi hotel" (which is located in Beppu, Oita and operated by ORIX) owns and operates the largest scale "Suginoi geothermal power station" that utilizes geothermal resources among similar equipment in Japan. The maximum power input is 1,900kW (1.9MW). The generated electrical power can be used for all electrical equipment in the hotel, providing the equivalent of 1/3 electrical power during busy hours. In addition, ORIX makes full use of its operation of hot spring hotels and experience of geothermal power generation to complete a small-scale geothermal power station with a maximum power input of 2,000kW (2MW) in many hot springs in Hokkaido, Aomori and other places. |
| Suginoi Geothermal Power Station | |
| | |
| --- | --- |
| | ORIX has invested in four wind power generation projects covering a maximum power output of 35,950 kW (35.9 MW) and a total of 34 draught fans. |
| Wind Power Station in Akita Shinya | |
Electrical Power Supply
ORIX makes contributions to reducing electricity costs for customers via low-price electrical power supply services.






As a new power producer and supplier, ORIX provides electrical power at a low price to enterprises.
As a new power producer and supplier (PPS) ※ in the power supply area of Tokyo Electric Power, Kansai Electric Power and China Power, ORIX mainly provides electrical power at low prices to private facilities of private HV businesses and enterprises. The new power producer and supplier is a specific-scale power enterprise. It uses a power grid which is often used by common power enterprises to provide electrical power to customers who sign a contract over 50kW of electricity consumption. PPS is an abbreviation of Power Producer and Supplier.



ORIX provides the unified purchase
ORIX provides the unified purchase service of electrical power, making "smart" apartments a reality.
ORIX Power provides a "unified purchase electrical power service" which can reduce electrical costs by uniformly purchasing relative HV electrical power at low prices via power enterprises and then transforming it into LV electrical power and delivering to users in apartments.
In addition, ORIX Power was selected as an MEMS integration enterprise of "Smart Apartments Introduction to Promote Operating Expenses and Subsidy" promoted by the Ministry of Economy Trade (METI) and Industry in April 2013. It has also started to freely set intellectual dose calibrators for all apartments who have introduced the unified purchase electric power services since September 2013, providing efficient energy use and the easy electric-saving service "EneVista".
"EneVista" uses the functions of the Internet to provide visual weather information and electricity consumption display at 30-minute intervals for customers, helping them to choose the proper electrical charge packages in accordance with their past electricity consumption, giving integral rewards to contributors who respond to electrical saving during busy hours. Since April 2014, protrusive visual interphones with web surfing function was added to new functions for displaying electricity consumption and electric charge. One third of the expenses for setting this kind of visual interphone are supported by the METI. Therefore, it can not only reduce introduction expenses, but also accelerate the intelligence of apartments via setting devices that conform to subsidy objects. ※ MEMS is an abbreviation of Mansion Energy Management System.
Energy Conservation
ORIX provides ESCO and electrical power visualization services to make a contribution to saving energy and reducing customers' energy costs.
ORIX provides ESCO service solutions for the different purposes of different facilities including factories, warehouses, commercial stores, hotels, etc.
ESCO, as an all-round service related to building energy conservation, achieves energy conservation without damage to the original service environment. As a way of realizing energy conservation and cost reduction at the same time, ESCO is adopted by many enterprisers and local municipalities because the fees resulting from setting up energy conservation equipment, maintaining machines and testing effect, etc., can be compensated for by the reduced energy costs of the ESCO service.
ORIX aims to grasp the diagnostic business of each customer's energy consumption and provide customers with a full set of services from energy conservation strategies and proposals to implementation. Based on customers' position, for different purposes of different facilities s'ch as factories, warehouses, commercial stores, hotels, etc., ORIX selects the most suitable machines and goods for them without limitation to a specific manufacturer and provides follow-up services such as maintaining and managing the equipment, testing the effect of energy conservation and operation consulting after equipment introduction.
ESC is an abbreviation of Energy Service Company.



LNG Satellite Station Introduced by Factories in Hokkaido




CO2 emissions in factories in Hokkaido have been reduced by 12.9% compared with that of 2011.
(Fuel conversion business) Sato Food Industry Co., Ltd.

ORIX has introduced regenerative combustion deodorization equipment in Tokyo manufacture of Ueda factory of Mitsubishi Plastics (Chiyoda-ku in Tokyo) for energy conservation solutions and efficient VOC processing. Apart from using the regenerative combustion deodorization equipment to burn VOC, it recycles waste heat produced in working as warm water and cold water and works on effective use of energy.
ORIX has made a contribution to reducing the total gas purchased from gas companies and CO2 emission reduction.
ORIX has introduced the LNG (Liquefied Natural Gas) satellite station in Hokkaido factory of Sato Food Industry Co., Ltd. (in Niigata-ken), which converts the original fuels A heavy oil and LPG (Liquefied Petroleum Gas) to LNG which has a low environmental load. As Hokkaido factory consumes the most A heavy oil and LPG in the corporation, it is the factory that needs to implement CO2 emission reductions most.
The conversion of boiler fuel reduces CO2 emissions by 12.9% compared with that of 2011.
In addition, this business has been adopted by subsidies businesses of the Japanese Ministry of Environment.






Demand- Response Service "Hatto Watto"
Helps to control peak electric power demand (reduce the peak) and reduce electrical quantity.
"Hatto Watto" is a service helping customers to control peak electric power demand (reduce the peak) and reduce electric power consumption.
Based on each customer's electric power usage, ORIX can put forward the most suitable power-saving project by reevaluating the power supply contract, power saving action, etc.
What is more, apart from customers' electrical power consumption and weather information being shown on the webpage every 30 minutes, electricity consumption for the following day will also be predicted based on past electrical power consumption trends and weather information, with reminders sent via e-mail when the predicted value is beyond the planned value, and an alert sent when actual electrical power consumption is close to the limit set by customers.
ORIX bears the equipment and communication expenses required by this service and shares reduction results of costs acquired by saving electrical power.
For 100 kW to 500 kW demand groups of users who do not only have a demand for saving electric power but also do not popularize BEMS, they can leverage this service but need not pay preliminary investment.
BEMS is an abbreviation of Building Energy Management System.
Storage Batteries
Make a contribution to achieving a new life style of "smart energy storage and use".
Rental Service of Storage Battery System
Energy service of renting household fixed electric storage battery system
ONE, established by ORIX Co., Ltd., alongside Japan Electric Co., Ltd. (NEC) and EPCO Co., Ltd., is the first rental service for household electrical storage systems in this country.
For separate buildings, ORIX provides sets of system rental services, including the fixed electrical storage system produced by NEC, the APP "PIPIPPA!" which supports electrical power visualization and power saving targets and data processing by cloud technologies. After introducing electrical power storage systems, customers can store cheap nighttime electrical power and use it during the daytime, which helps to reduce electric charges and control peak electric power demand (reduce the peak). Additionally, it can be applied to emergency power supply in case of power outage.
As of April 25, 2013, SVP Co., Ltd., surveyed in Japan.
Use household fixed storage batteries.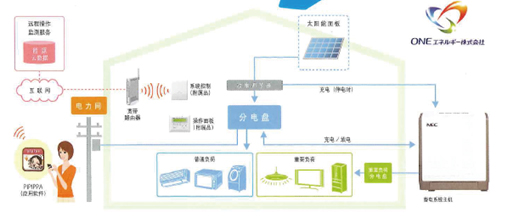 ORIX and The Environment
ORIX's social responsibility lies in helping solve global problems that are directly related to business strategy. Among which, the most prominent is the issue of the environment and resources.
Focusing on the environment and taking corresponding action has always been our key work.
Resources and Waste Business
ORIX provides a one-stop 3R service and proper disposal for customers by leveraging its technical experience in renting business and separate network.
Generic term for three words beginning with the letter R: reduce (restrain the production of waste), reuse and recycle.
ORIX's 3R and proper disposal
As an effective means of using necessary equipment when necessary, renting is a service which helps to reduce and reuse.
Every year, ORIX has nearly 280,000 articles with termination of tenancy, 80% among which will be relent while the remainder will be terminated. By making full use of its own distribution network, ORIX recovers goods with terminated tenancy all over the country for promoting reuse and recycling. ORIX is actively exploring the waste processing business and recycling business by leveraging these technical experiences and its network. The rate of reuse and recycling of goods with termination of tenancy was about 98% in March 2014, 99.9% of which was office automation equipment and computers.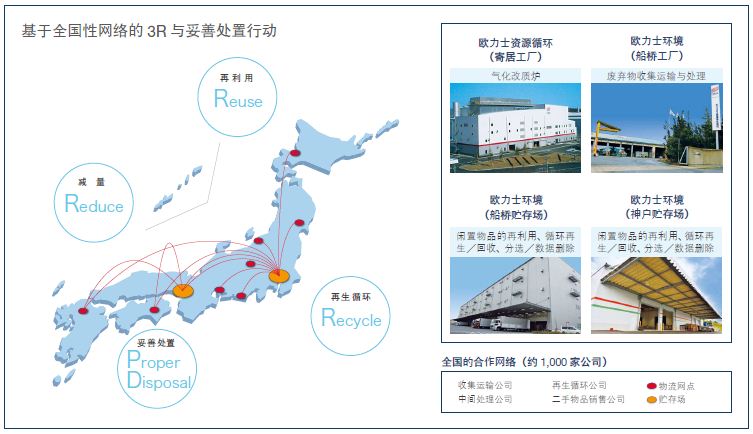 Sophisticated Waste Processing Facility (Gasification Reforming Furnace)
| | |
| --- | --- |
| High Temperature Furnace for Melting Waste | With a processing capacity at a maximum level in the country, 100% waste recycling is operating "zero emission facility" in the way of PFI business in Yoriimachi in Saitama-ken. Adopting the most advanced form of thermolytic gasification reforming, the most important characteristic of this facility is that it can melt waste under a high temperature of 2,000°C and realize the complete reuse of resources. The independent limit of dioxin is limited to below 1/10 of the legal value. Maximum restraint of the production of dioxin is the largest scale in Japan's private facilities, with 450 tons of daily processing. Aside from industrial waste discharged from factories and enterprises, many municipalities also entrust us to process ordinary waste including household waste, etc. Waste has been effectively used as a raw material and no useless emissions are discharged. |
| | |
Nationwide Recycling System
ORIX has constructed a network allowing it to offer integrated support for recovering unnecessary equipment, and then preparing it for reuse, recycling, and proper waste disposal. ORIX makes a uniform management for dealing with choices of the company, scheduling vehicles, evaluating prices, cost reduction proposals and all kinds of routine work related to proper disposal and works on nationwide recovery and recycling, preventing all kinds of improper disposals and supporting to process unnecessary equipment for customers all over the country. In addition, for waste office automation equipment and mechanical equipment, ORIX has developed a business of recovering useful metal resources and recycling metal by leveraging value sorting ability of metal resources accumulated in operating an intermediate metal waste processing facility (Funabashi factory). Furthermore, ORIX also plays a role in providing Japan's nationwide recovery of iron and non-ferrous metals for metal trading company and metal processing industry of renewable resources market.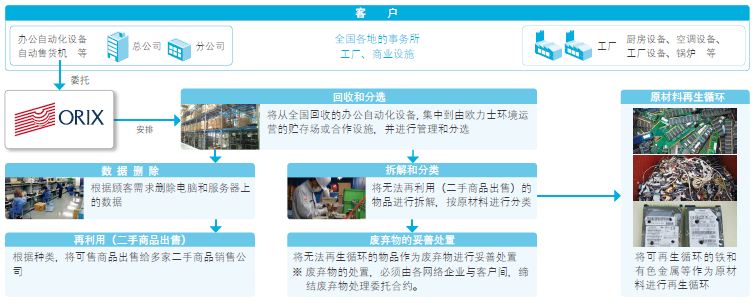 Metal Waste Processing Facility
Intermediate processing facilities based on metal waste including office automation equipment and mechanical equipment
Operate intermediate metal waste processing facilities in Funabashi, Chiba Prefecture (Funabashi factory).
Making whole-course processing of recovering, storing, processing and regenerating (raw material) metal mixture including mechanical equipment in the Kanto area, ORIX promotes high additional valuation by selecting high quality raw metals which are more prone to being recycled.
Aside from the traditional punching machine, ORIX also introduces a metal crusher (double-shaft crusher) and ring-hammer crusher (transverse small crusher) and completes the metal processing system with higher precision. Machines with rare metals including office automation equipment, IT machines, etc., have been dismantled in manual dismantling factories and recycled and reused in accordance with the materials.。
In addition, the logistics base in Yachiyo, Chiba Prefecture, has been moved to near Funabashi factory and been put into operation as a stock dump in May 2014.
ORIX collects valuable waste by making full use of resources in the stock dump. On the basis of enhancing the cooperation with Funabashi factory, a factory which can process metals with higher performance is hoped to be completed.

ORIX Abroad
Since its entrance into Hong Kong in 1971, ORIX has set up bases in 36 countries and regions around the globe to expand its business globally. In the field of environment & energy business, ORIX makes full use of its experience accumulated in Japan to expand its business in emerging Asian countries which have ever-increasing market demands.
Main Business Abroad
Establishment of Environment & Energy Investment Funds in Asia
Conduct joint operations with the Netherlands asset management company, Robeco, and the Asian Development Bank. In August 2014, ORIX reached an agreement with Netherlands asset management company, Robeco, and the Asian Development Bank to join hands and establish the private fund the "Asia Climate Partners (ACP)", which aims to invest in environment-related business, and the energy and low carbon business in Asia. In the future, ACP will invest in corporations doing business in the fields of renewable energy, green environmental protection technology, energy saving, water resources, agriculture, forestry, etc., which are expected to develop in Asia.
ORIX Becomes a Shareholder of GBPC, a Philippine Power Generation Company, and Carries out Strategic Cooperation with the Famous Commercial Bank, Metrobank, in Industries Relevant to Energy.
| | |
| --- | --- |
| Power Plant on Panay Island | ORIX became a shareholder of the Global Business Power Corporation (GBPC) (22%※), and pushes forward the strategic cooperation with GBPC's parent company, the Metrobank Group, in industries relevant to energy in the Philippines. GBPC is a power generation corporation based in the Visayan region where Cebu Island and Panay Island are located. As an IPP (independent power producer) relying on coal thermal power generation, GBPC owns and operates power plants with a generating capacity of 627 MW (owns generating capacity 487 MW), and takes charge of base power supply in this region. With the population and economic development in the Philippines growing, ORIX strives to develop new sources of power generation to meet the growing demand for power. Besides supporting GBPC's business expansion, ORIX utilizes its technologies accumulated in Japan to expand its business in the Philippines in the renewable energy power generation industry, electricity retail, and energy-saving industries. ORIX brought another 2% of Metrobank's shares, and currently owns 22% of GBPC's shares with 20% shares added that were obtained in June 2013. |
| | |
USA Energy Service Company, "Enovity"
| | |
| --- | --- |
| Maintenance Scene of Power Generating Equipment Placed under Office Building | Relying on the USA's professional advantages, ORIX expands building energy service in Asia. "Enovity, Inc. (Enovity)", a US energy service company joined ORIX in September 2013. Enovity mainly provides services in governmental facilities, office buildings, commercial facilities, etc., in the region centered around the state of California. Enovity brings in an automatic management system from building energy-saving design to energy-using status, as well as highly professional services in optimizing building service life energy cost and comprehensive equipment maintenance management service. In recent years, more and more transnational companies in the USA pay attention to goals-setting in reduction of energy costs and CO2 emissions in business activities for the purposes of coping with the rise of energy prices in the future and decreasing environmental load. In the future, it's expected that such demands for making plans will appear in manufacturing and business bases like Asia. Therefore, ORIX will make full use of Enovity's professional advantages and rely on its network abroad to expand its environment and energy business in the USA and Asia. |
| | |